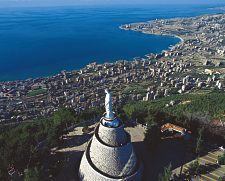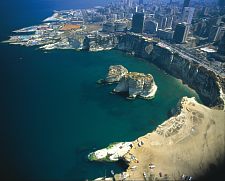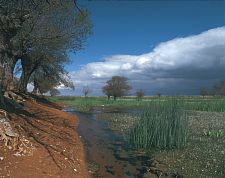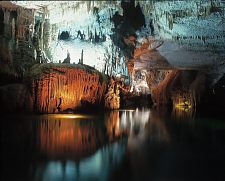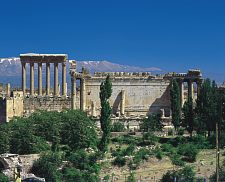 Lebanon feels heat of Sunni-Shiite friction


by Jeffrey Stinson*

USA TODAY | 12/7/2006

BEIRUT — Lebanon's week-long political crisis is driving a deep and potentially violent wedge between Shiite and Sunni Muslims like this nation hasn't seen before.

"This is the worst ever," Abdo Saad, director of the Beirut Center for Research and Information, says of the rift. "It's very dangerous."

The political crisis reflects the growing influence of Shiites, and as in all matters political in Lebanon, there are religious overtones to the conflict.

"Sectarian tensions are high," says Mohammed Kalhani, a Sunni member of the majority coalition in parliament. "Shiites and Sunnis are opposing each other. That's something we never found in the past."

After decades of fighting in Lebanon that pitted its many groups against each other, clear Sunni-Shiite fault lines have emerged over the past few months as Hezbollah, a militant group, has launched a forceful effort to gain more power for itself and other Shiites and, opponents say, for its key supporters: Syria and Iran.

IN THE STREETS: Opposition calls for massive weekend protest

The crisis is most evident in downtown Beirut. Protesters led by Hezbollah have camped there for a week and vow to stay until the government resigns and gives them greater say over policy. The government, led by Prime Minister Fuad Saniora, a Sunni, refuses to give in.

The divisions can be seen and heard across the capital — in places such as the Shiite neighborhood of Haret Hreyk and the predominantly Sunni district of Tarik el Jdideh.

Hezbollah support

In Haret Hreyk, Housain Baroud, 35, a Shiite who runs a restaurant that sells sandwiches, says the split with Sunnis is palpable since the political struggle mushroomed.

A cold politeness characterizes even simple transactions among Muslims. "The tension, you see it now," he says after making change for a Sunni who walked in but didn't buy anything.

Baroud supports Hezbollah and its effort to gain greater political power in the government. The reasons, he says, are clear, pointing at the new floor, ceiling, tables and marble counter in his restaurant.

Half of it was paid for by a $3,000 grant from Hezbollah, which offered to help Baroud after the restaurant was badly damaged during the militant group's 34-day fight with Israel in the summer. The government has given him nothing, Baroud says.

Much of Hezbollah's newfound support comes from the conflict that erupted after the group, which is armed and gets financial support from Syria and Iran, staged a cross-border raid and captured two Israeli soldiers July 12. The two soldiers' whereabouts remain unknown. Israel sent forces into Lebanon and launched a bombing campaign aimed at neutralizing Hezbollah.

Israeli airstrikes flattened or damaged dozens of buildings in mainly Shiite southern Beirut, including Haret Hreyk. Buildings, many of them pockmarked from shrapnel, are separated by empty lots where businesses and apartment blocks once stood.

Israel failed to uproot the militant group, which saw its prestige grow among Shiites and other Lebanese as a result of its staying power. A cease-fire declared Aug. 14 ended the conflict. "I'm with Hezbollah 100%," Baroud says. "Hezbollah means to us dignity. They held off Israel."

That support may translate power on the battlefield into political gains for Shiites, who represent at least 32% of Lebanon's population, according to Saad of the Beirut Center.

Baroud is among Lebanon's Shiites who say they have been ignored by Sunni-led governments and the time has come — thanks to Hezbollah — for better representation. "How can you live in harmony and some people feel that others don't exist?" he asks.

Government support

The mood is darker in the Tarik el Jdideh area of West Beirut, a mostly Sunni area. It's been tense here since Sunday, when a Shiite youth was killed by gunfire while he passed through the district on his way home from the downtown demonstrations.

Tanks, armored vehicles and troops have set up checkpoints and barricades around Tarik el Jdideh. "Day after day, it is becoming more tense," says Mohamad Housami, 28, who works in a fruit-drink bar.

Housami says the cause of the widening divide between Sunni and Shiite Muslims is clear. "The Shiites have become more radical," he says. "If things keep the way they are going, it could be civil war: Muslims against Muslims."

Support for Saniora's government runs deep here. His governing coalition of Sunnis, Christians and Druse, was elected on an anti-Syria platform after Damascus ended its nearly 30-year occupation of Lebanon. The withdrawal of Syrian troops was prompted by protests after the assassination of former prime minister Rafik Hariri, a Sunni critic of Syria's presence.

Resentment toward Hezbollah is high here — and not just because some Sunnis fear Syria could regain control of Lebanese affairs if Hezbollah gets the power it seeks.

There's also deep-seated resentment against Hezbollah for inciting the summer war with Israel. The conflict caused $2.8 billion in direct damage to roads, bridges, businesses and housing. "It was an unforgivable mistake," Mustafa Abbass, 63, a candy shop owner, says of the war. "Now, (Hezbollah) is trying to put pressure on the government for more power. This government is legitimate. It has popular support."

Government supporters such as Abbass suspect Hezbollah is staging its protest to derail an international tribunal that would try suspects in Hariri's murder. Hezbollah may also be trying to prevent the implementation of a U.N. resolution demanding that the group disarm.

President Emile Lahoud and parliament speaker Nabih Berri, both of whom are pro-Syrian, say the Cabinet has lost its legitimacy since five Hezbollah members of the government resigned in October. They say the Cabinet no longer represents Lebanon's religious diversity, as required by the constitution.

The crisis has many worried about the future of Sunni and Shiite relations. Among them is Nouhad Srouji, 42, a Sunni who owns a clothing shop here. A mother of three, she is married to a Shiite. She and her husband no longer talk politics to keep the peace, she says.

"I'm very worried about the situation," she says. "And I'm very worried for my children. I'm telling them that if they grow up to be Shiite, marry a Shiite."
---
* Source: http://www.usatoday.com/news/world/2006-12-07-lebanon-tension_x.htm